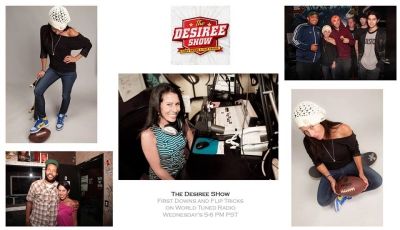 The Desiree Show
Desiree Astorga host and produces a one hour live show on World Tuned Radio, on Wednesday's 4-5 PM PST also available also via the app and worldwide on Soundcloud and Itunes.
Desiree has the opportunity or relations to bring an A-List of athletes, from the NFL to skateboarding icons, both current and legends.
Hence the tagline, First Downs and Flip Tricks.
The blog shares on air audio, words, photos along with video packages as she shares all the goings on from skate events to NFL practices.
With over 100 thousand views she has recently moved to a wordpress site, you can find the old blog here.
Guests have spanned from NFL Film's Greg Cossell to Anthony Miller,Bernard Berrian, to Ryan Sheckler and Ray Barbee, and include current NFL players and professional skateboarders to legends, along with prominent writers, photographers, filmers and artists. From stories to X's and O's, behind the scenes to emotions and how they have made it to current place.
You can also find her and the show on instagram, twitter and facebook, for up to date goings on.